ATT Mail Login – ATT.net Email
ATT.net Email – How to Log in to ATT.net Mail.
To use the AT&T email service, users will have to register for an AT&T email account before they can check their email, or write and send emails.
How to Login to your ATT.net Email Account:
To access your AT&T email, navigate to this login page.
If that does not wotk then visit this direct link.
If you are using Android, users can download the Android app here and sign in via the app.
iPhone, iPad, and Windows Phone Users can download the app by navigating to ATT.net with your mobile browser.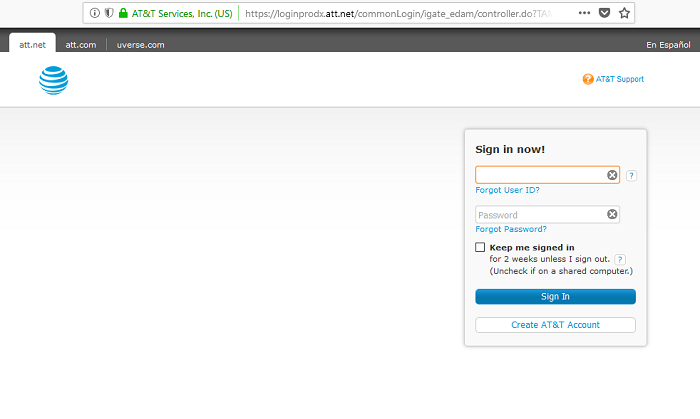 I Forgot My AT&T Mail Username or Password.
Problems? Can't sign in? Reset your password or User ID here.
AT&T Mail login Problems.
If you cannot log in to your ATT email account, then check or try the following:
You must have a working Internet connection to access your ATT email. Check by visiting other websites that you frequently use to see if the connection is working.
Check if the ATT.net website is down (unlikely) by visiting http://www.isitdownrightnow.com/att.com.html.
Try to close all open browser windows and re-open them to ensure no process is "stuck".
Try opening your ATT login page in a different Web browser, like Mozilla Firefox , Chrome or Internet Explorer and log in.
Try logging in to ATT Mail from another device, e.g a mobile phone or another laptop.
Clear your browser  cookies and cache.
Enable Javascript in your browser, and update your browser to the newest version.
Try to disable browser tools, plugin and add-ons, that may block or interfere with your email access.
Enable Adobe Flash Player in your browser, and update it to the latest version.
Check your computer's firewall, anti-virus, and anti-spyware settings. These can sometime conflict with email access pages and web browsers. Disable them one by one and try logging in to your email.
ATT Email Server Settings – IMAP, POP3 and SMTP Server Settings.
What are the ATT.net email server settings for IMAP, POP3 and SMTP?
These are the inbound and outbound server settings for ATT Mail:
These settings are for email addresses with these domains: @ameritech.net, @att.net, @sbcglobal.net, @snet.net, @swbell.net, or @wans.net, @bellsouth.net, @currently.com, @flash.net, @nvbell.net, @pacbell.net, @prodigy.net.
| | | | | | |
| --- | --- | --- | --- | --- | --- |
| Email protocol | Inbound Server | Inbound port | SSL | Outbound server | Outbound port |
| POP3 | inbound.att.net | 995 | Yes | outbound.att.net | 465 |
| IMAP | imap.mail.att.net | 993 | Yes | smtp.mail.att.net | 465 or 587 |
The SMTP outgoing server settings are:
| | |
| --- | --- |
| AT&T SMTP Server | smtp.mail.att.net |
| SMTP port | 465 or 587 |
| SMTP sec.urity | SSL / TLS |
| SMTP username | Your full email address |
| SMTP password | Your Att.net email password |
Still having problems or found a solution? Add a question or comment in the comment section.
Click to Rate This Company!