www.Walmartone.com.
Full guide to WalmartOne.com, Walmart's Associate/Employee web-portal for schedule and paystub management, company news and Paid-Time-Off.
WalmartOne Registration.
How do I register for Walmartone.com?
As a new Walmart employee, it can be confusing to sign up for the WalmartOne portal, but it is actually fairly easy.
The main thing to look out for is that the old WalmartOne registration link was found on another domain, namely www.MyWalmart.com.
You can still register from this website, however, Walmartone has finally created a direct link on their main Walmartone.com portal for sign up/registration at https://apps.walmartone.com/WALMARTOne/intro.do?.
To register you need to know the following information:
Your Walmart Identification Number (WIN)
Your birthday
The date you were hired
Your email address.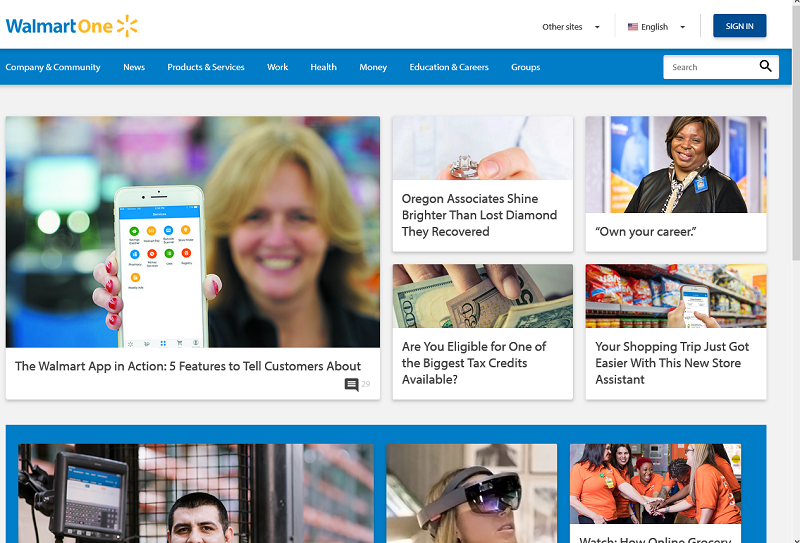 WalmartOne Login.
How do I log in to WalmartOne.com?
WalmartOne Desktop login:
Logging in to the WalmartOne platform is easy, just follow these steps:
Visit the WalmartOne website, at www.walmartone.com.  it will re-direct to this url: us3.walmartone.com.
Locate the blue "Sign In" button at the top right side of the WalmartOne main page.  Click on it.
If you have already registered, then enter your WalmartOne login username and password to enter  your account. Note, the Username is not your WIN number, but the username you created when you registered for WalmartOne the first time.
Click on the "Login" button at the bottom of the page to complete the process. You scan now view your WalmartOne schedule, Walmart paystubs, benefits, and news.
Walmart Wire Login at One.Walmart.com.
How do I login to the new Walmart Wire Portal:
Walmart associates can also choose to log in at the new Onewalmart Portal:
Visit the OneWalmart Wire login page here.
Enter your User Id.
Enter your Walmartone Password.
Choose Country.
Choose Location, then Store Number.
Click on "Sign In".
WalmartOne Mobile Login:
You can login from your mobile/cell phone in two ways: Either visit the www.WalmartOne.com website directly with your mobile web browser and enter your login credentials.
Or download the WalmartOne mobile app, and log in via the app.
To download the app, search for WM1 on iTunes or Google Play, locate the app and download it.
After download, find the app, click on the WM1 and enter your login credentials.
The Walmart One App.
The WalmartOne (WM1) app can be used to view your paystubs and schedule from your smartphone.  Download the app though the links below.
iOS app is available at Walmart WM1 App for iPhones
Android app is available at WalmartOne WM1 App for Android.
WalmartOne FAQ.
Question: I forgot my user name or password. What can I do?

Answer: Visit the login page and click the "Forgot User ID?" or "Forgot Password?" link. You can request that your user name be emailed to you, or reset your password using your security questions. If you do not have access to the email address that you registered with, or if you do not know the answers to your security questions, call WalmartOne's employee service team at (800) 421-1362.
Question: I forgot my WM1 WalmartOne app PIN?
Answer: Open the WM1 app, and select "username login", then log in with your user name and password. Once you log in, select the menu, then "settings" and "setup PIN number".
Question: Which browser should I use for WalmartOne?
Answer: Google Chrome or Mozilla Firefox are recommended.
Question: I cannot view my WalmartOne schedule online. What can I do?
Answer: Login in first and then check the the Schedule FAQ for more help on seeing your schedule online.
Question: I get the error, "User not found", when I try to register. What can I do?
Answer: The error means that the information that was entered doesn't match what's in the WalmartOne system. Please contact your Personnel Manager or HR Representative to verify your hire date and WIN (Walmart Identification Number).
Question: I'm have just been hired by Walmart. What now?
Answer: You cannot register a WalmartOne account until your information has been entered into all Human Relations systems. This takes a few business days, or even up until you receive your first paycheck. If you are a re-hire and were registered with walmartone.com earlier, you have register once more, as your old account will have been deleted.
Resources and Links.
WalmartOne Lost Password: www.walmartbenefits.com/Registration/ForgottenPassword.action
WalmartOne Forgot ID: www.walmartbenefits.com/Registration/ForgottenUserName.action
Please share feedback. I you are having problems with WalmartOne.com or the WM1 App, or even if you have praise, then we would like to know in the comment section.
If you are having problems with logginfg in, or have a question, then leave a comment in the comment section below.
Click to Rate This Company!