ACES ETM – ACES LOGIN.
View your Limited Brands work schedules, payslips, benefits and more from within the Limited Brands Aces ETM enployee website.
What is the ACES ETM Portal used for?
Victoria's Secret, Bath & Body Works and Henri Bendel Employees can use the ACES ETM portal to:
Access tax details and tax information
Create employee reports
See paystub-payslip information
Manage health benefits anf 401K plan
View work schedules
See new better job opportunities at Limited Brands
What is ACES ETM?
ACES ETM is the employee portal of Limited Brands.  There are two different ACES ETM portals, one for management and DMs, and another website for employees.
Limited Brands ACES ETM Login.
ACES login for employees/associates can be found here:
Login Page for Store Employees
The ACES ETM login for HR (Human Relations) staff can be found here:
Employees will need their user ID and password to sign in. Your associate user ID is the ID listed on your paystub (but without the zeros in front) It will normally consist of 6 or 7 characters. Your ACES ETM password you will have creates when you first joined the Limited Brands team.
How do I know if I am on the correct ACES ETM Login Page?
The official Limited Brands Aces ETM  login pahe fr Store associates and Dms and hHome Office looks like the screenshot below: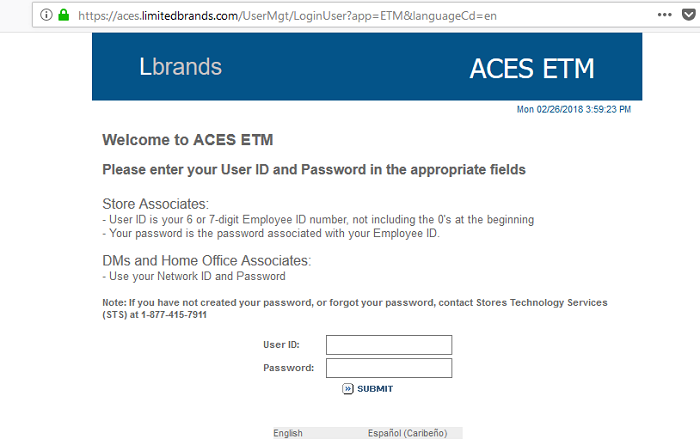 The official login page for HR employees (HR ACCESS) looks slightly different.
It will look like this: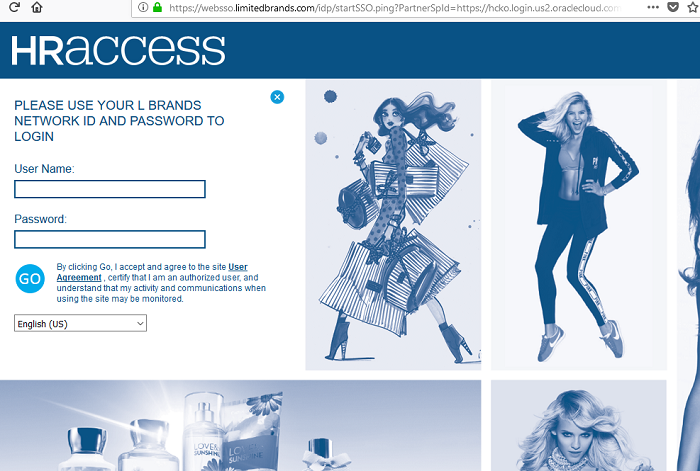 So, make sure you are on the correct page before attempting to login!
I Can't Log In to the ACES ETM Website. What is the Problem?
Go through this checklist, if you cannot log in:
Make sure that you are on the official ACES login page.
Make sure that you log in with your Employee ID Number (WITHOUT the 000's in front), if you are a store employee.
You must have registered for an account, and set up a password, before you can access the ACES ETM system.
Passwords are Case-sensitive, so check that your CAPS-LOCK button is off.
Try logging in from another device, for example a mobile phone, another laptop, if you get anerror message.
Try using another web browser, for example Mozilla, Chrome or Explorer.
If you have forgotten your password, then calll STS on 1-877-415-7911.
Add your experiences, or questions about ACES ETM in the comment section below.
Click to Rate This Company!