MyTHDHR – Home Depot My Apron.
MyApron is Home Depot's intra-store portal for employees. It is different from the Home Depot MyTHDHR associate portal, in that it can only be accessed in-store.
On this page, you can find answers to the most commonly asked questions about Home Depot's My Apron website, including how to check your weekly schedules.
What is Home Depot's My Apron/MyTHDHR?
My Apron is a work and benefits management site for Home Depot associates, with access available through computer terminals within the main stores. To access My Apron, the Home Depot employee must access the website on a store computer and log in with a identification number and password. Then, the employee can view his or hers current work schedule, including the store number and department.
The employee can also view pay stubs through the My Apron system, showing pay rate, total billable hours, overtime pay and any withholding from paychecks.
Associates can also view and make changes to benefits, like health insurance or retirement plans.
MyTHDHR is the secure login portal version of My Apron, that can be accessed from home.
MyTHDHR Login.
How can I log in to the My Apron website from home?
You cannot log in to MyApron from home.The intra-store website can only by accessed from in-store computers.
You can access the MyTHDHR Employee Self Service website from home, however. This employee portal also allows you to check your schedule, view paystubs, access benefits plans, and more.
Home Depot employees can also use the My Apron website to apply for new positions.
Home Depot HR Contacts.
I am having problems logging in to My Apron. How can I contact the Home Depot HR department?
You can contact the Human Resource Department bycalling on 1-866-myTHDHR (1-866-698-4347).
The line is open from Mon-Fri 8am – 8pm (EST), Sat 8am – 5pm (EST). Closed on Sundays.
The Home Depot Human Resources Department can also be reached via email on [email protected].
Home Depot My Apron Password Reset.
I lost my login ID and Password for Home Depot's My Apron page. How can I retrieve it?
Talk with one of your ASM or your HR contact. All password resets are done by management.
MyTHDHR View Schedule.
Where can I find Home Depot's My Apron 'View Schedule' Login page?
Some employees still mistakenly search for a www.myapron.com website, but a website does not exist with this name.
Instead, to view your Home Depot Schedule, go to www.MyTHDHR.com, and click on the "View Schedule" tab in the top left corner.
Or, go directly to the MyTHDHR View Schedule Login page, here.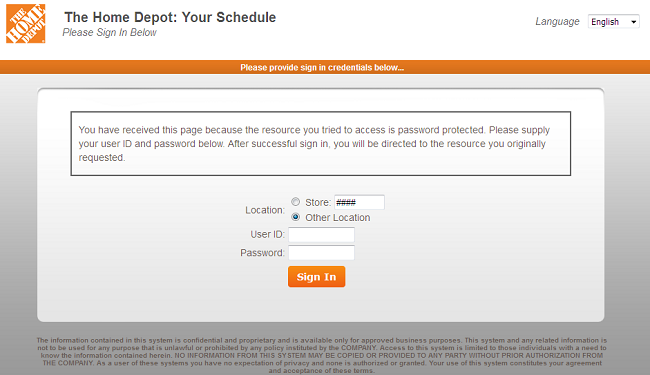 Home Depot Paystubs.
How can I check my Home Depot employee Pay Statements?
To check your Home Depot pay stubs, log in to the MyTHDHR website's Self Service Pay Statements section. You can log in here. Home Depot Pay statements remain online for 36 months.
Click to Rate This Company!